Protecting your information on old hard drives and other types of media is vital this day. B.W. Recycling, Inc provide a unique service which allows you to have your hard drives picked-up anywhere in the US with insured package and shipped directly to our facility. At our facility we will shred your hard drive in to 0.25" pieces which will make it impossible for anyone to ever access the data in the hard drives. We charge a flat rate and e-mail you a prepaid (insured) label. We also schedule a pick-up to have your hard drive(s) picked-up.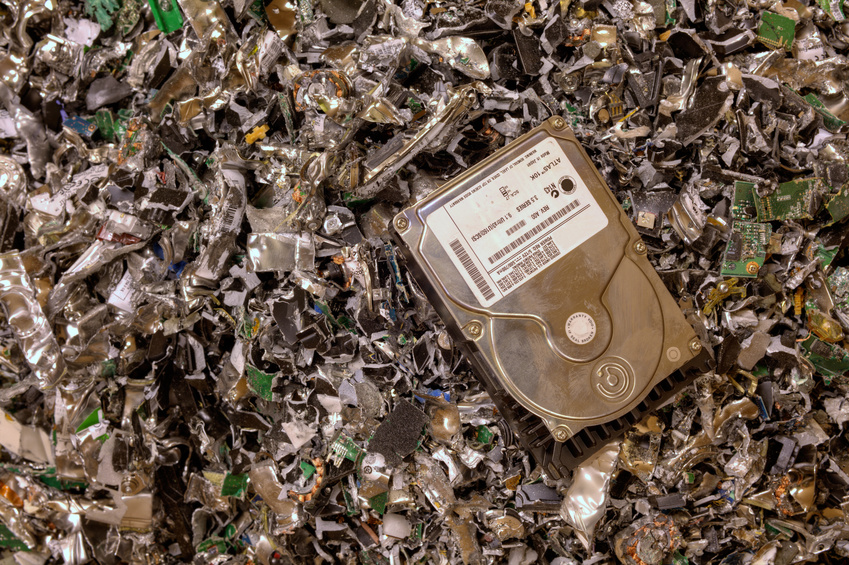 Super easy process
All you have to do is just put your hard drive(s) in a package and print out the label.
You will get an e-mail notification to inform you once the package has arrived in our facility. And we will e-mail you the certificate of destruction for your hard drive within up to 3 business days of arrival.
Prices for hard drives shredding service
All prices includes the pick-up of the hard drive(s) for shredding, actual shredding and e-mail notifications on status during transit and arrival and the certificate of final destruction & recycling of the hard drive(s).
Prices June 1 to Dec 31 2015
Items
Price
1-3 Hard drives
$35.00
4-7 Hard drives
$49.00
8-20 Hard drives
$79.00
21-50 Hard drives
$125.00
Video file showing the actual shredding of the hard drives
$65.00
The benefits of hard drives shredding over other solutions.
Hard drives actual shredding is the ideal solution for making sure the data is destructed completely. Some people would think that drilling holes in the hard drives will definitely do the work which is not 100% true, Experts can recover data from drilled hard drives as well as wiped hard drives. However the data can not be recovered from completely shredded hard drives as we offer.
Recycling benefits of our hard drives shredding services
Even if you do trust other types of destructing the data on your hard drives, what would you do with the actual hard drives? putting it to landfill is illegal and not eco-friendly. With our hard drives shredding service offered we actually recycle to shredded hard drives. We recover the metals from the hard drives in an environmentally friendly manner. We are registered with the environmental protection agency as well.
Why trust us?
B.W. Recycling, Inc, has been in the data destruction services for over 8 years and we are a BBB accredited business with a solid A rating. We also provide x-ray film destruction services for many customers nationwide. Please call us anytime for references.